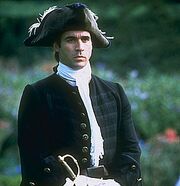 DS038 Town Elder is a
HorrorClix 1.5
monster designed by
BLG
as part of the
Dark Streets
custom set.
Original Post
Edit
38. TOWN ELDER Undead, Vampire
This is a very old vampire, who has seen the City grow from it's humble origins to the towering metropolis of today. He knows all of the City's dark secrets and learned of all its hidden sins as he haunted the City for centuries, emerging by night to claim victims, retreating by day into the endless underground catacombs beneath the city streets. The figure would depict an elderly man in a dark cloak and tricorn hat.
Points: 85
Range: 0/
Plot Twists: +0
M:07-|06-06-05-05-04-04-X Mist Form (Ghost)
A:11-|10-10-09-09-08-07-X Vampiric
D:17-|17-16-15-14-13-12-X Ancient (Invulnerable)
D:03-|03-03-02-02-02-01-X Possession
Community content is available under
CC-BY-SA
unless otherwise noted.