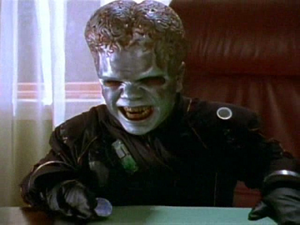 This Month In Fear is a monthly custom content collumn by Sarcanis, started in June 2010, continued in July 2010 and discontinued in August 2010. In This Month in Fear, Sarcanis designs one or more custom figures to represent each horror movie he saw the preceeding month.
June 2010
Edit
June 2010 saw the first This Month in Fear thread, the centerpiece of which was the first custom figure designed by Sarcanis, Aleister Crowley. Also included were Mr. Click and Madame Visage from Are You Afraid of the Dark?, the Man Outside from Visions of Suffering and Otto from Otto; or Up with Dead People. Additionally, a plot twist was included which would serve as the first feat in HorrorClix: Feat: Cutting Through Space-Time.
July 2010
Edit
In July 2010, the second thread was posted, which included a Predator Hound from the recently-released Predators, Ghastly Grinner and The Virus from Are You Afraid of the Dark? and a generic Scanner from Scanners, and Noland, also from Predators and guest-designed by Darkzilla. It was also teased that an Ash Williams had been designed based on his appearance in Freddy vs. Jason vs. Ash: The Nightmare Warriors. It was eventually posted to the All Hallow's thread, becoming a part of that set.
January 2011
Edit
The third This Month In Fear thread came months later in January of 2011. This time around it featured a series of Nazi zombies to complement Ivanev's custom Colonel Herzog, plus Dr. Ripper from the 2001 d-movie Slashers, the Rat-Monkey from Dead Alive and The Gingerdead Man.