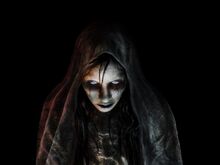 ToF053 La Llorona is a HorrorClix 1.5 monster designed by BLG as part of the Tropic of Fear custom set.
Original Post
Edit
53. LA LLORONA Fury, Aztec, Legend
One of the most enduring figures from Mexican folklore, tales of The Crying Woman date back to the early days of Spanish colonization of Mesoamerica, making it likely that the legend originated with the Aztecs. According to the folktales, La Llorona was a woman who murdered her own children in order to be with the man she loves, only to be rejected by him. Overcome with grief, her spirit can never be at peace. She wanders the mortal world, appearing to be a woman in a white gown with long black hair, weeping uncontrollably (she is sometimes seen walking on water- hence this fig's Swimming movement); when bystanders investigate, she reveals her horrifying face, which is so terrible it can kill a man from fright!
Points: 70
Range: 3/
Plot Twists: +1
M:04-05-06-07-06-05-04-03-X Entice
A:08-09-09-10-09-09-08-07-X Scare
D:14-15-16-17-15-14-13-12-X She Looks Harmless... (Retributive Strike)
D:01-02-03-03-02-02-01-01-X Wail*
-Swimming Movement
*As per the HeroClix power Pulse Wave.
Community content is available under
CC-BY-SA
unless otherwise noted.