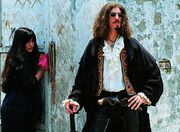 ToF037 Creole Vampire is a
HorrorClix 1.5
monster designed by
BLG
as part of the
Tropic of Fear
custom set.
Original Post
Edit
37. CREOLE VAMPIRE Undead, Vampire
A tip-of-the-hat to Anne Rice's popular Vampire Chronicles books, this is a bloodsucker "born" (reborn?) in 18th-century New Orleans. The mini- would depict a handsome mixed-race man dressed like an old-fashioned dandy, dabbing at the blood running from his mouth with a lace handkerchief.
Points: 60
Range: 0/
Plot Twists: +1
M:05-06-07-08-06-05-04-03-X Entice
A:09-09-10-11-10-09-08-07-X Bloodlust (Female) / Dominate
D:14-15-16-17-15-14-13-12-X Skulk (Phantom) / Vampiric
D:02-02-03-03-03-02-02-01-X
Community content is available under
CC-BY-SA
unless otherwise noted.