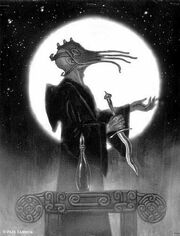 Eld024 Chanter of Mu is a
HorrorClix 1.5
monster designed by
BLG
as part of the
Eldritch
custom set.
Original Post
Edit
24. CHANTER OF MU Occultist, Fanatic
Mysterious occultists who have passed down the ritual incantations of the sorcerers of the legendary land of Mu since time out of mind. The figure would show a woman in elaborate robes, wearing a grotesque eyeless jade mask and holding a dagger in one hand and a small statue of Cthulhu in the other.
Points: 55
Range: 4/
Plot Twists: +1
M: 05-04-03-H-06-04-X Second Sight
A: 08-08-06-H-09-07-X Mind Control
D: 16-14-12-10-13-11-X High Priestess (Fortune)
D: 01-01-01-H-01-01-X Chant of the Old Ones (Mass Hysteria)
-R'LYEH CABAL

Community content is available under
CC-BY-SA
unless otherwise noted.