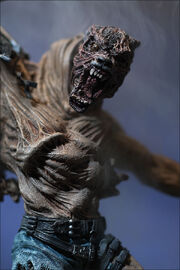 HW040 Boxenwolf is a
HorrorClix 1.5
monster designed by
BLG
as part of his
HowlingWood
custom set.
Original Post
Edit
40. BOXENWOLF Werewolf, Hellspawn
Not all werewolves are the product of infectious bites or hereditary curses. According to German folklore, some especially evil men willingly enter into pacts with the Devil in order to acquire the power to transform into a beast, and thus take revenge on their enemies. The miniature would be a particularly evil-looking werewolf, with black hair and glowing red eyes, wearing a wide, ornate belt (a Boxenwolf's transformation is achieved with the use of a magic item, usually a girdle-like belt).
Points: 50
Range: 0/
Plot Twists: +1
M: H-07-06-06-05-05-04-03-X Devil's Henchman*
A: H-10-10-09-09-08-08-07-X
D:14-17-16-16-15-15-14-13-X Dodge / Skulk (Phantom)
D: H-03-03-02-02-02-02-01-X Vengence (vs Guardians)
*Can't create Werewolf minions.
Community content is available under
CC-BY-SA
unless otherwise noted.