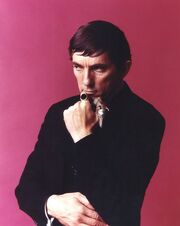 Gx048 Anguished Vampire is a
HorrorClix 1.5
monster designed by
BLG
as part of his
Gothix
custom set.
Original Post
Edit
48. ANGUISHED VAMPIRE Undead, Vampire
The guilt-wracked vampire has been a popular character in supernatural fiction since the debut of Barnabas Collins in the soap opera Dark Shadows, a trend that has continued through Anne Rice's Vampire Chronicles and up to the Angel TV series and beyond. This angst-ridden vampire begins the game Rescuing victims. His initial abilities include high Defense and low Attack values. If this monster gives in to the Red Thirst, however, he Changes, flipping his card and turning his dial to an alternate starting slot. Transformed, the Anguished Vampire is a berserk killing machine, with a high Attack and low Defense, and no compunctions about killing Victims... The figure would be a young gentleman dressed like a dandy- I picture his clothes being warm earth tones, like golden brown, to contrast with the standard dark colors normally associated with vampires. He would have long blond hair and be nervously biting his knuckle, possibly holding a cane in the other hand.
Points: 70
Range: 0/
Plot Twists: +1
M:06-06-05-05-04-X|07-06-06-05-04-X Protector / Rake
A:08-08-08-07-06-X|12-11-10-09-08-X Red Thirst* / Vampiric
D:17-17-16-15-14-X|14-14-13-13-12-X Dodge / Snack
D:02-02-01-01-01-X|01-01-01-02-02-X Righteous / Savagery
*When this monster attempts to Rescue a victim, roll a d6: on a "1", this monster slays the vicim instead; turn the dial to the red starting line and flip the card.
Community content is available under
CC-BY-SA
unless otherwise noted.